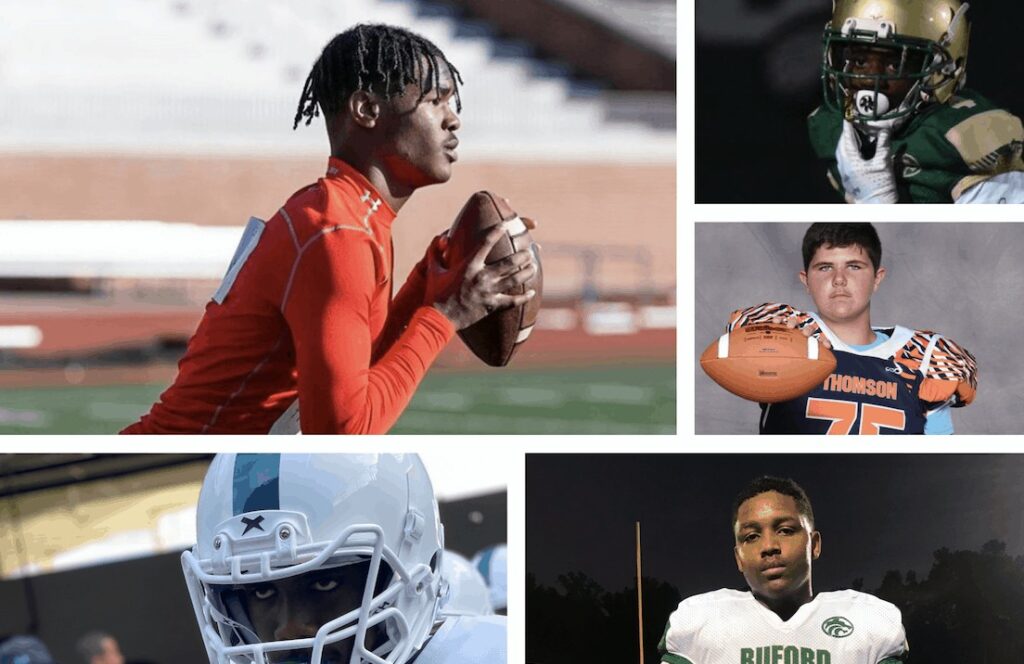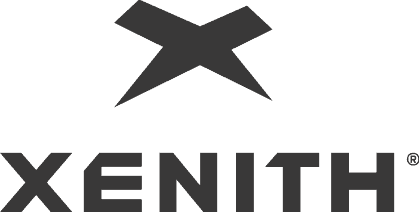 B2C Prime 90 Player Rankings (GA) | Class 2024
Every year they get better and better but now with the emergence of position specific trainers and 7v7 players are ready to come into high school and contribute if they have the size and are able to play within the coaches scheme. Last year Malachi Singleton out of North Cobb was the #1 ranked player headed into high school.  The Quarterback not only contributed at the high school level but he played exceptionally well when he earned his opportunity to be on the field at North Cobb HS.  He would end his season by helping his team make it into the state playoffs and he would also pick up an offer from Georgia Tech. 
Past #1 ranked players have been 
Derrick Brown (Projected NFL Top Ten Draft Pick)
Davis Mills (Former #1 ranked QB in the Country in HS, Stanford QB.

 

Set Stanford record for most passing yards in a game)
Trevor Lawrence (National Champion – Clemson QB – Projected #1 Overall NFL Draft Pick)
Nolan Smith (Formerly #1 ranked HS Player in the Country, University of Georgia DE)
Harrison Bailey (#1 ranked QB in GA, Freshman at Tennessee)
Quarterback
Prentiss Noland leads the conversation when you talk about top quarterbacks in the state. The 6'2 pocket passer is the modern day Quarterback. He has won every award at the youth level including Player of the Year.  Recently Noland picked up a Kentucky offer, with that being said Noland will be attending Pace Academy and playing in a very QB friendly offense with a great QB coach. Jeremy Hecklinski can put on a show.  He can make any type of throw you want and he is scary accurate downfield.  He has a chance to contribute at his High School depending on how the QB battle goes.  Jeff Davis is polished.  He throws a great ball and can handle pressure.  He reminds you of a middle school version of MJ Morris at Carrolton. By the time it is his turn to take over the reigns he has a chance to be one the top quarterbacks in the country.  Reece Fountain will win at least one state championship playin in Rome.  
Running Backs
Kam Davis is special, he posses everything you want in a Running Back.  When coaches watch him play in person or on film they can't deny the talent he has.  He can run inside or outside. Make the make people miss or run them over.  Jehden Robinson is right there next to Kam Davis talent level.  At 5'10 Robinson is a load and when he hits the hole, he is hitting it at full speed.  Makari Bodiford is a bully when he runs the ball.  Very similar running back to Chris Rodriguez who is now at Kentucky. He has very good balance as he runs with exceptional pad level.  
Wide Receivers and Tight Ends
Martavious Cullins is different. Very similar to Arik Gilbert out of Marietta. Not as fast but he has better hands and is better at the 50/50 ball which makes him a nightmare in the redone. At 6"3 205 he will grow into a bigger body at Rome. One thing about playing at Rome High School is that if you can play they are going to put you in position to be successful and Martavious can play.  This group has the potential to be special.  Joseph Stone is unreal in the slot.  As he grows he will be able to move outside and dominate. Montrell Christian is a nightmare out wide. He is a natural pass catcher and he can take the top off the defense as a vertical threat.  DeBron Gatling is the most polished.  A big WR for his age that will not be stopped when it comes to curls, slants, hitches and digs. By the time it is all said and done he could very well be the #1 WR in the state. 
Offensive Line
Nicholas Reeves and Paul Harrington have all the potential in the world to become one of the top offensive lineman in the country. What will help them excel even more is the high school that they will be attending. Michai Boireau is another big body that will develop into a monster on the offensive line. Garret Landing down in Thomasville has already picked up an offer from GA Tech.  Sharvon Pierre will end up being the perfect size a tackle.  Already has long arms with very good feet.  Waltclaire Flynn is the #1 center in the state and top 5 in the country at his position. 
Defensive Line
This is the best group of defensive linemen since the 2019 class.  Hevin Brown Shuler is monster. Omar White can get pressure at the 1 or 3 technique consistently.  When Kylan Fox is at Defensive End he has a chance to not only be one the best players at his position but one of the best players in the country. Antavious Elder is literally a walking nightmare for offensive tackles. Jordan Cardentey and Kendall Farmer are technicians at the point of contact.  Eddrick Houston is a great strong side end who can play well against the pass and the run.  Again this group has a chance to be the best defensive line group to come out of Georgia. 
Linebackers
Thomas Summeral is a problem, high football IQ and a tackling machine.  Ashton "The Bloodline" Woods comes from…a great bloodline.  He will have all the tools to be elite at the high school level.  Justin Bonds plays with passion and pure violence. If he reaches 6'2 he will be the #1 linebacker in the state. Daneil Turpin is a thumper, he plays violent and fast. 
Defensive Backs
Depending on what he wants to do at Buford KJ Bolden can be an amazing defensive back or he can be a great wide receiver. He has the highest football IQ grade since Harrison Bailey who is now a freshman QB at the University of Tennessee.  When the ball is in the air he will pick it off and possibly take it to the house. Very similar player to Richard Lecounte but taller.  TyQuavious Lamar has all the ability to come in right away his freshman year and compete for playing time at one of the best high school in the state of GA (Colquitt County). TyShun White is a shutdown corner. Great length, smart and tackles well in the open field.  Zion Ferguson is very fundamentally sound and he is always in position to make the interception. 
Athletes
This is another year where there are athletic freaks all over the field that can impact the game from so many different positions. The first one up is Kemeon Collins.  Very similar to Smoke Monday who is at Auburn playing DB.  Cullins has a chance to be special at WR or DB. Depending how he continues to grow he might end up at defensive end. Bryce Clavon is special.  He is Mechole Hardmin, he has a future at QB if that's. What he wants to play but he can also be a 4 star cornerback or wide receiver. Jaden Baugh is smooth and watching him run is like watching Todd Gurley run. 5'10 already, great feet and can go the distance but he is so talented that no coach is going to want to just leave him in the backfield.  He will line up all over the field.  CJ Penn, DaTwon Rouse and Jordan McCoy are all very similar. They might end up playing in the secondary or the slot. Either way all three of them can be game changers with the ball in their hands as they have something that you can't coach and that SPEED. Montrez Redding is another player that can stay at QB if he works on it consistently with the way high school offenses are he would be productive but he can also be an all state selection at wide receiver or Safety.  
Congrats to all the players that made the list.
| | | | |
| --- | --- | --- | --- |
| | Name | Position | Location |
| 1 | Prentiss Noland | Quarterback | Atlanta |
| 2 | Martavious Collins | TE/DE | Rome |
| 3 | Kemeon Cullins | Athlete (WR/DB/DE) | Atlanta |
| 4 | Hevin Brown-Shuler | Defensive Line | Marietta |
| 5 | Nicholas Reeves | Offensive Line | Warner Robins |
| 6 | Eddrick Houston | DE/TE | Buford |
| 7 | KJ Bolden | DB/WR | Buford |
| 8 | Kylan Fox | DE/TE | Valdosta |
| 9 | Omar White | DL/OL | Crisp Co |
| 10 | Bryce Clavon | Athlete (QB/DB) | Hampton |
| 11 | Jaden Baugh | Athlete (RB/WR/DB/) | Dekalb Co |
| 12 | Kam Davis | Running Back | Albany |
| 13 | Garret Landing | Offensive Line | Thomasville |
| 14 | Antavious Elder | Defensive Line | Morgan Co |
| 15 | Jeremy Hecklinski | Quarterback | Marietta |
| 16 | Thomas Summeral | Linebacker | Atlanta |
| 17 | Sharvon Pierre | Offensive Line | Waycross |
| 18 | Joseph Stone | WR/DB | Grayson |
| 19 | Waltclaire Flynn | Center | Grayson |
| 20 | Tyshun White | Cornerback | Atlanta |
| 21 | TyQuez Richardson | DL/OL | Atlanta |
| 22 | Jehden Robinson | Running Back | Conyers |
| 23 | Jaylen Slaughter | Offensive Line | Ellenwood |
| 24 | Michai Boireau | Offensive Line | Lovejoy |
| 25 | JaLewis Solomon | Athlete | Schley Co |
| 26 | Datwon Rouse | Athlete (RB/WR) | Marietta |
| 27 | Jeff Davis | Quarterback | Lagrange |
| 28 | CJ Penn | Athlete (WR/DB) | Atlanta |
| 29 | Ameir Glenn | Defensive Line | Milledgeville |
| 30 | RJ Echols | DB/WR | Marietta |
| 31 | Paul Harrington | Offensive Line | Roswell |
| 32 | Bryce Hicks | Athlete (DB/RB) | Atlanta |
| 33 | Montrell Christian | Wide Receiver | Clayton Co |
| 34 | Kendall Farmer | Defensive Line | Douglasville |
| 35 | Makari Bodiford | Running Back | Marietta |
| 36 | Kyle Mosley | OL/DL | Dekalb Co |
| 37 | DeBron Gatling | Wide Receiver | Milton |
| 38 | Ivan Kynes | Offensive Line | Marietta |
| 39 | Baxter Wright | Quarterback | Gainesville |
| 40 | Jordan McCoy | Athlete (RB/WR/DB) | Lilburn |
| 41 | Ashton Woods | Linebacker | Marietta |
| 42 | Jordan Cardentey | DL/OL | Carrolton |
| 43 | Gavin Hall | Quarterback | Waverly Hall |
| 44 | Jackson Pickett | DL/OL | Tucker |
| 45 | Montrez Redding | Athlete (WR/DB) | Clayton Co |
| 46 | Preston Clemmer | Quarterbacks | Milton |
| 47 | Zion Ferguson | Conerback | Lilburn |
| 48 | Jaiden Jenkins | Quarterback | Alpharetta |
| 49 | Jacobi Fox | Wide Receiver | Marietta |
| 50 | Zack Simmons | Athlete | Columbus |
| 51 | Justin Bonds | Linebacker | Clayton Co |
| 52 | Reece Fountain | Quarterback | Rome |
| 53 | De'Ante Childs | Athlete | Columbus |
| 54 | Austin Scott | Defensive Line | Atlanta |
| 55 | Quintavious Johnson | Athlete (QB/LB) | Atlanta |
| 56 | Hunter Teal | Athlete (TE/LB) | Marietta |
| 57 | Akeem Cunningham | Athlete | Conyers |
| 58 | Jamarcus Presley | Athlete | Covington |
| 59 | Chase Lamb | Linebacker | Suwanee |
| 60 | Antonio White | Wide Receiver | Lilburn |
| 61 | Trey Townsend | Quarterback | Dalton |
| 62 | Preston Ratliff | Quarterback | Suwanee |
| 63 | Justin Mitchell | Wide Receiver | Roswell |
| 64 | Trelain Maddox | Athlete (RB/DB) | Buford |
| 65 | Demarcus Smith | Athlete | Ellenwood |
| 66 | La'Khi Rolland | Cornerback | Ellenwood |
| 67 | Nick Pace | Linebacker | Moultrie |
| 68 | Evan Gooden | Athlete | Atlanta |
| 69 | Xavier Leonard | Linebacker | College Park |
| 70 | Channing Henderson | Running Back | Dekalb Co |
| 71 | Jordan Scott | Quarterback | Thomasville |
| 72 | Jahsier Ratliff | Quarterback | Marietta |
| 73 | Andrew Hines | Wide Receiver | Alpharetta |
| 74 | Avion Dyer | Offensive Line | Covington |
| 75 | Michael McClellan | Quarterback | Dekalb Co |
| 76 | Tee Man | Linebacker | Atlanta |
| 77 | Chance Armstrong | Linebacker | Dekalb Co |
| 78 | Riley Scruggs | Quarterback | Covington |
| 79 | Terrence Curtis | Defensive Back | Lilburn |
| 80 | Jake Merklinger | Quarterback | Savannah |
| 81 | Mheki Muhammed | Offensive Line | Ellenwood |
| 82 | Katayvonn Jefferies | Wide Receiver | Covington |
| 83 | Jamari McIvory | Athlete | Effingham Co |
| 84 | Christopher Martin | Quarterback | Fitzgerald |
| 85 | TyShawn Walthall | Running Back | College Park |
| 86 | Kendrick Curry | Linebacker | Athens |
| 87 | Cornelius Heard Jr | Linebacker | Atlanta |
| 88 | Cameron Lloyd | Wide Receiver | Marietta |
| 89 | Joseph Thomas | OL/DL | Dekalb Co |
| 90 | Arlando George | OL/DL | Dekalb Co |
| 91 | TyQuavious Lamar | Defensive Back | Moultrie |
| 92 | Caden Williams | Running Back | Calhoun |
| 93 | Jakarri Ponder | Athlete | Clayton Co |
| 94 | Daniel Turpin | Linebacker | Dekalb Co |
| 95 | Ny Carr | Wide Receiver | Moultrie |
| 96 | Dominic Mazzone | Quarterback | Atlanta |
| 97 | Jayden Scott | Athlete | Henry Co |
| 98 | Jaquavian Daniels | Offensive Line | Moultrie |
| 99 | Jaden Fowler | Wide Receiver | Hampton |
| 100 | Jordan Bride | Defensive Back | Atlanta |