B2C Prime 11 // 12U Division and 7th Grade Division
Every year B2C names the top 11 players for high school along with NBC 11 Alive.  This year B2C is doing it for the youth.  The 12U Division and 7th Grade has playmakers but more importantly has Lineman that are long, athletic and violent.  Please check out the list below.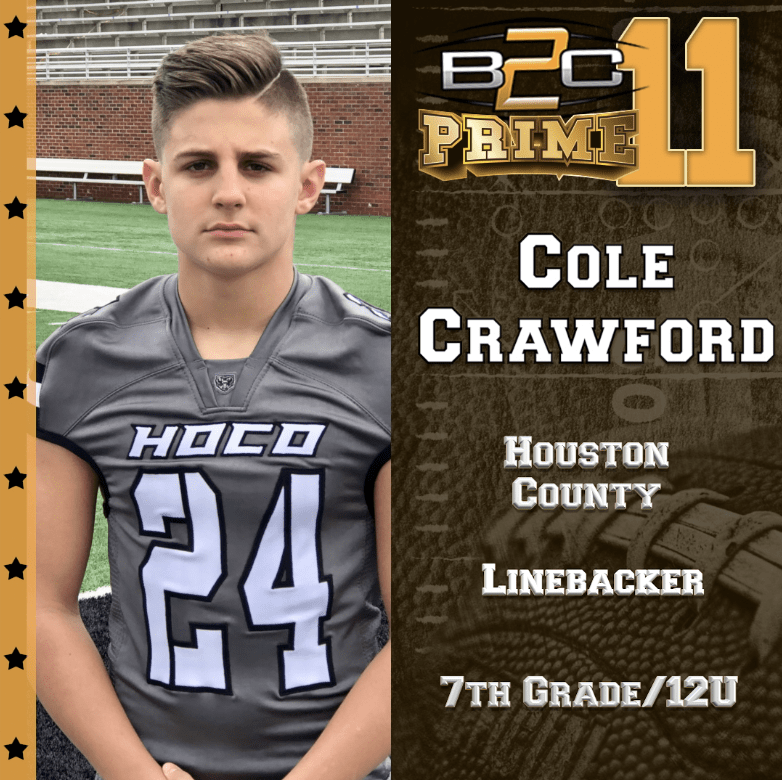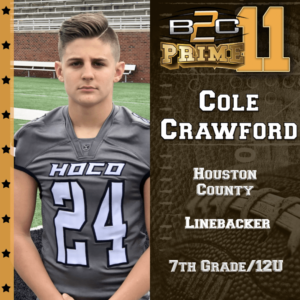 Cole Crawford
Houston County
Linebacker
Cole Crawford is physical, physical, physical. The big LB brings bad intentions when he gets to the ball carrier. The son of a coach he has a very high football IQ. If he grows to 280lbs before he leaves high school he will be one of the top defensive lineman in the country. If he stays below 230lbs before he leaves high school he will be one of the best linebackers in the country.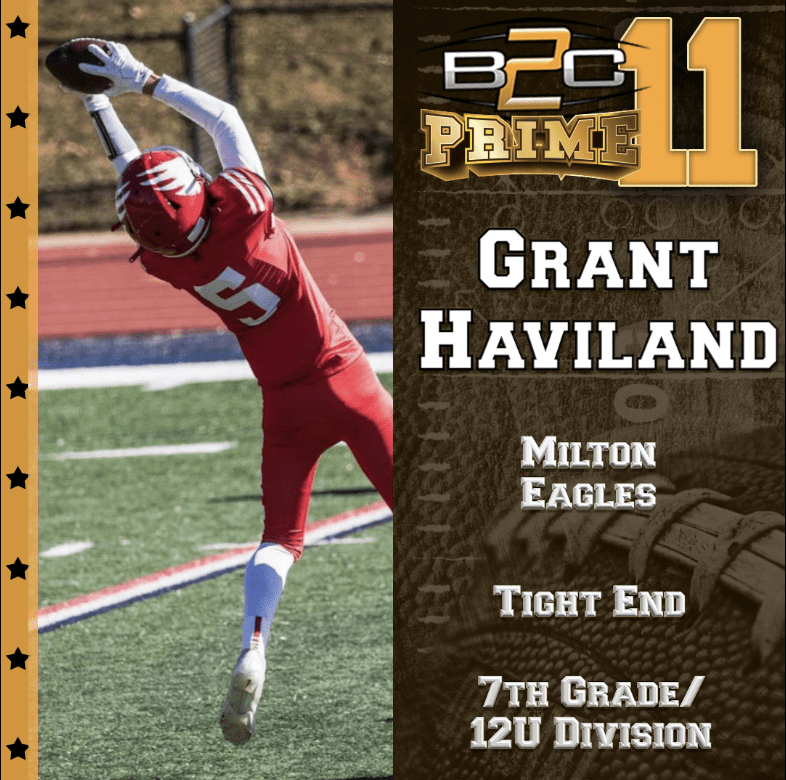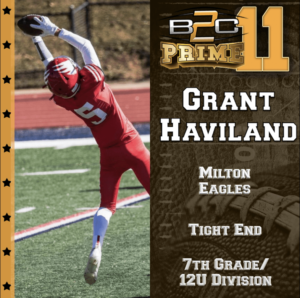 Grant Haviland
Milton Eagles
Tight End
Long athletic tight end that can go get the ball.  Does great at high pointing the ball and is smooth route runner, is a willing blocker.  Teams always have to account for him.  Helped lead his team to a GMSAA Championship last year and birth in the B2C State tournament. 
Eric Paul Jr
Athlete
Fairburn Flames
Eric can score from anywhere on the field. If his team needs him at QB he can get the job done.  If his team needs him at WR he can make a play.  Plays with a passion that you love to see, Eric is very competitive and wills his team to victories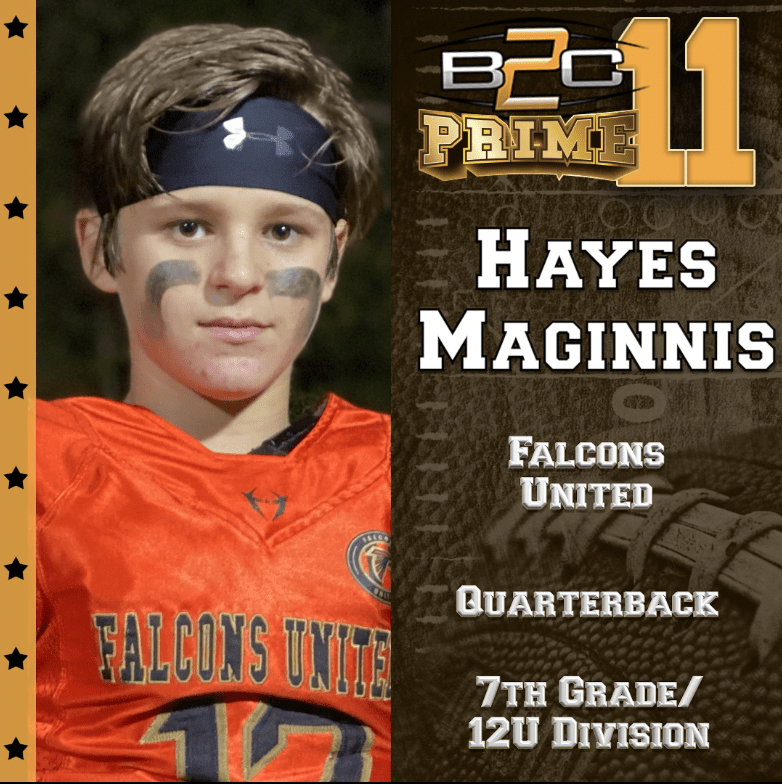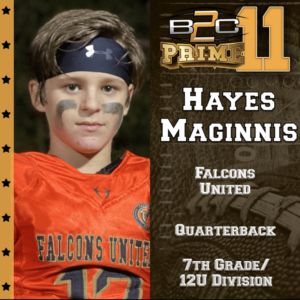 Hayes Maginnis
Quarterback
Falcons United
Has a chance to be the next big name at QB to come through B2C. Names include Trevor Lawrence, Justin Filed and Harrison Bailey to name a few.  He is accurate and mentally tough.  Most notably he is good on third down and late in the 2nd and 4th Quarter where a QB is really judged.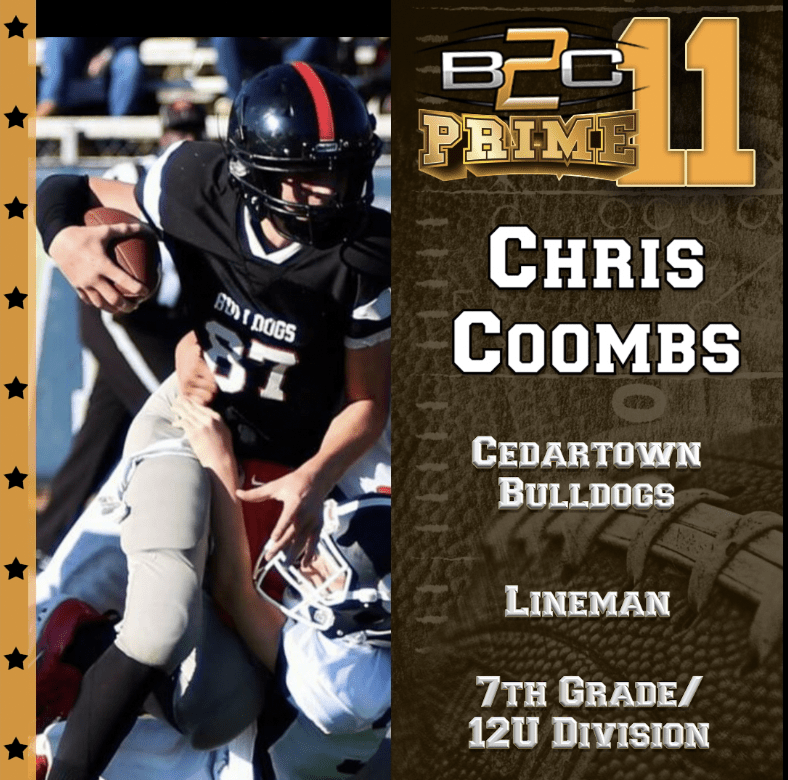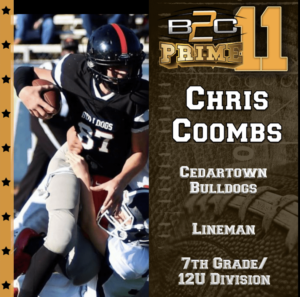 Chris Coombs
Cedartown Bulldogs
Lineman
Long and athletic, not only is he a good lineman but he can produce in the passing game when needed. Helped lead his team to a top ten ranking last year which was the first in Cedartown history at the 6th grade level.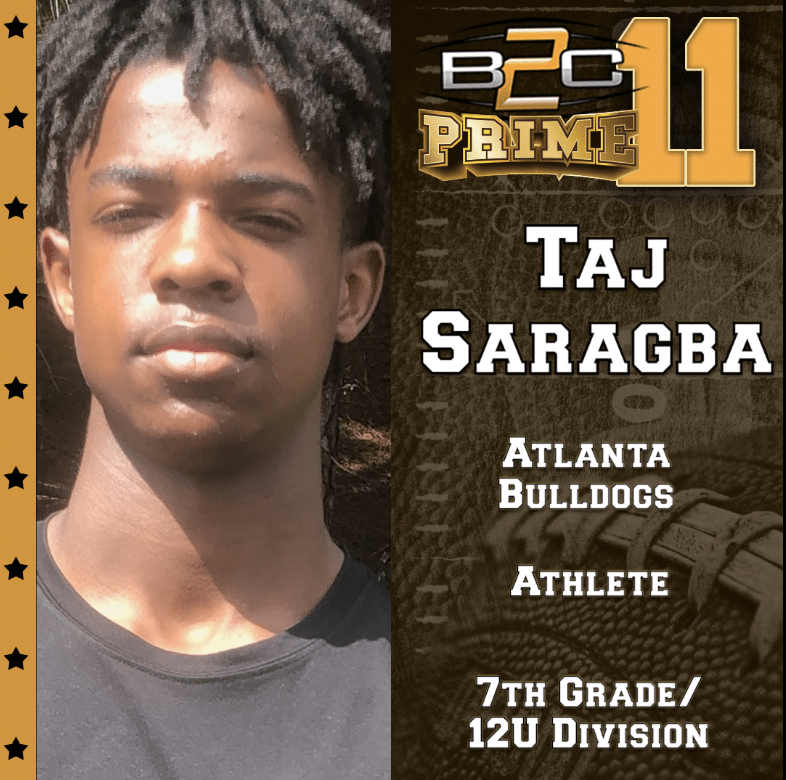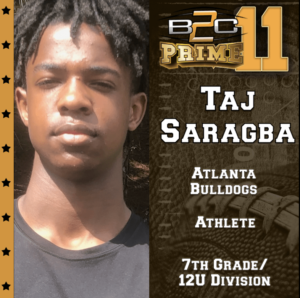 Taj Saragba
Lineman
Atlanta Bulldogs 
Last year he played with Woodstock and won 6th Grade defensive player of the year. This year he will be playing with the Atlanta Bulldogs who finished ranked in the top 10 in the state.  Taj is a 6'4 athletic defensive end that has the ability to become a problem.  Might end up as one of the best basketball player in the country or one of the best defensive ends in the country when its all said and done for him…or just might be both.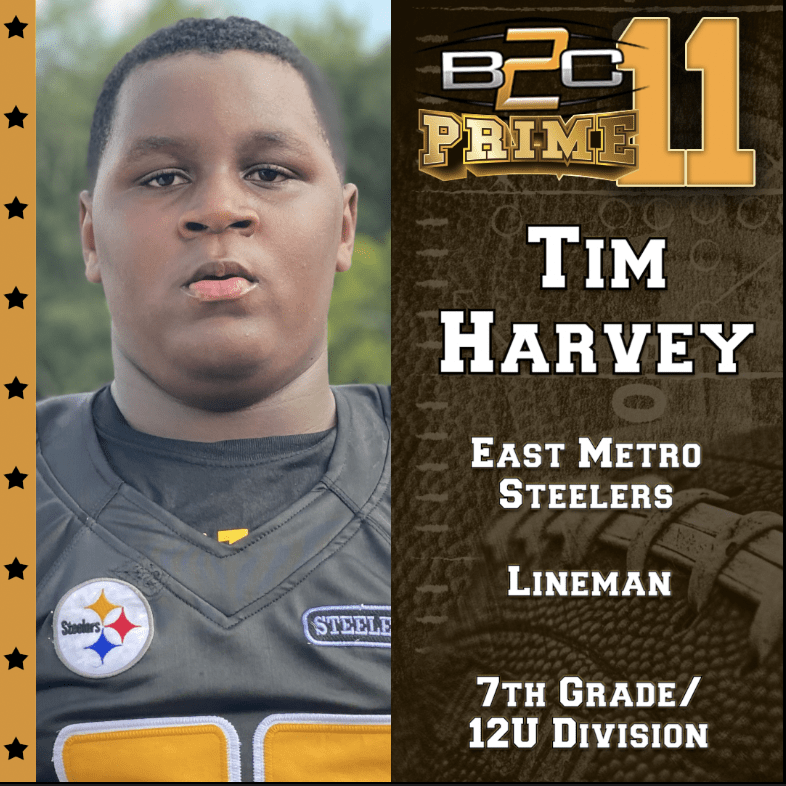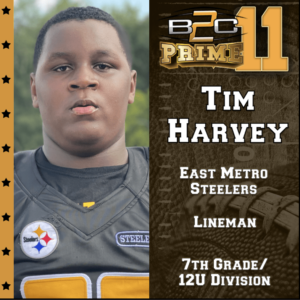 Tim Harvey
Lineman
East Metro Steelers
Tim Harvey is in a great situation. Not only does he have a quality coach that puts him in the best position but he is also blessed with great genetics. The big lineman is brute strength, the bigger the moment the better he plays. Has a chance to lead the Steelers to a Frank Ski Youth Bowl appearance.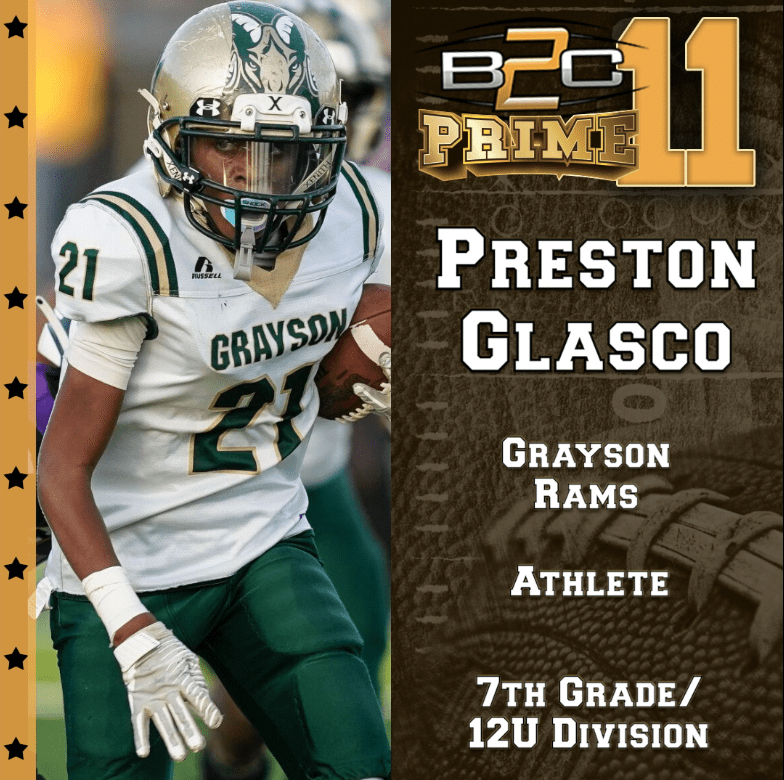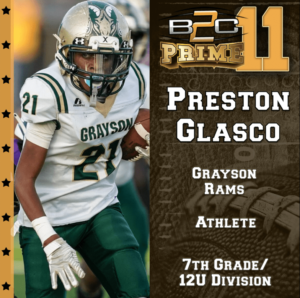 Preston Glasco
Athlete
Grayson Rams
Athletic, smart and a competitor. He can impact both sides of the ball. Offensively he can score from anywhere on the field.  Defensively he can make plays on the ball. Special player.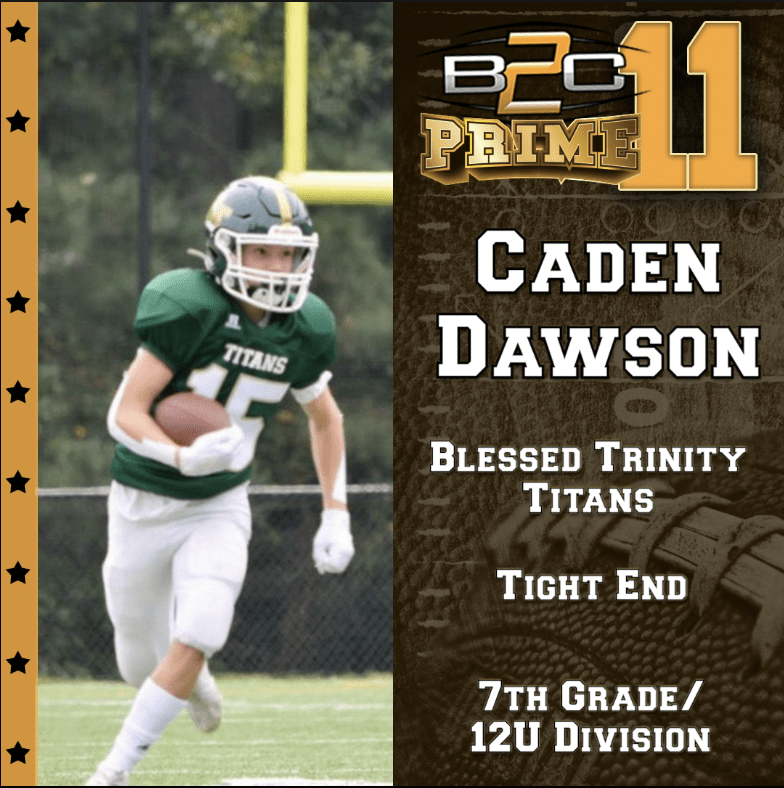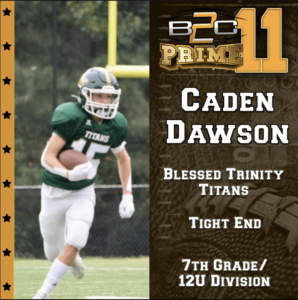 Caden Dawson
Tight End
Blessed Trinity 
High football IQ and athletic are two things that coaches love. Blessed Trinity has had some good players in the past like Steele Chambers (Ohio State) and JD Bertrand (Notre Dame). They will be adding Caden Dawson name to the list.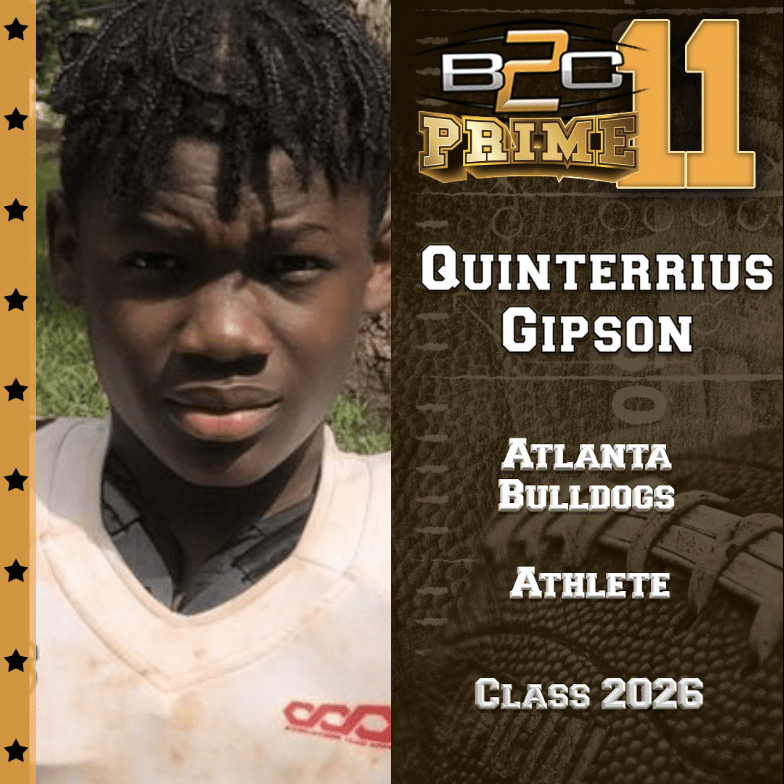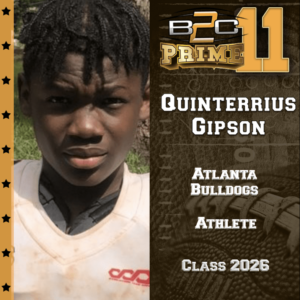 Quinterrius Gipson
Athlete
Atlanta Bulldogs
Mr. Do it All, one of the few players that can score in all there phases of the game. He can score on offense, defense and special teams. He will have the Bulldogs in position to make a Youth Bowl run.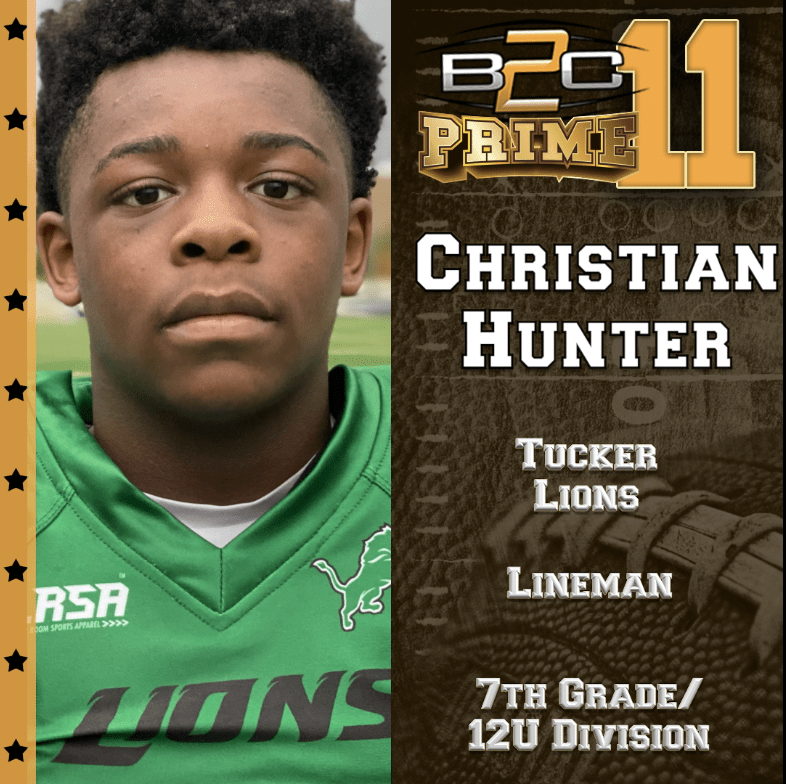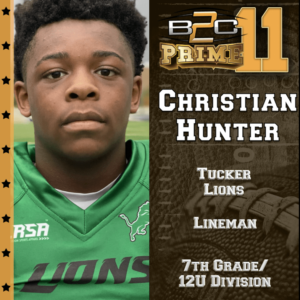 Christian Hunter
Lineman
Tucker Lions 
A genetic freak, great size, athletic, violent and competes on every play.  Has a chance to earn a Top 10 grade this year with his play. Only one other player has received that in the last six years.  Can play the interior or exterior on the defensive line and can play tight end and score some TD's for his Tucker Lions.  Christian is widely considered the best player at the age group and his team is the favorite going into the season to win the Youth Bowl.