B2C Prime 21 Rankings // 8th Grade (GA) 9.28.21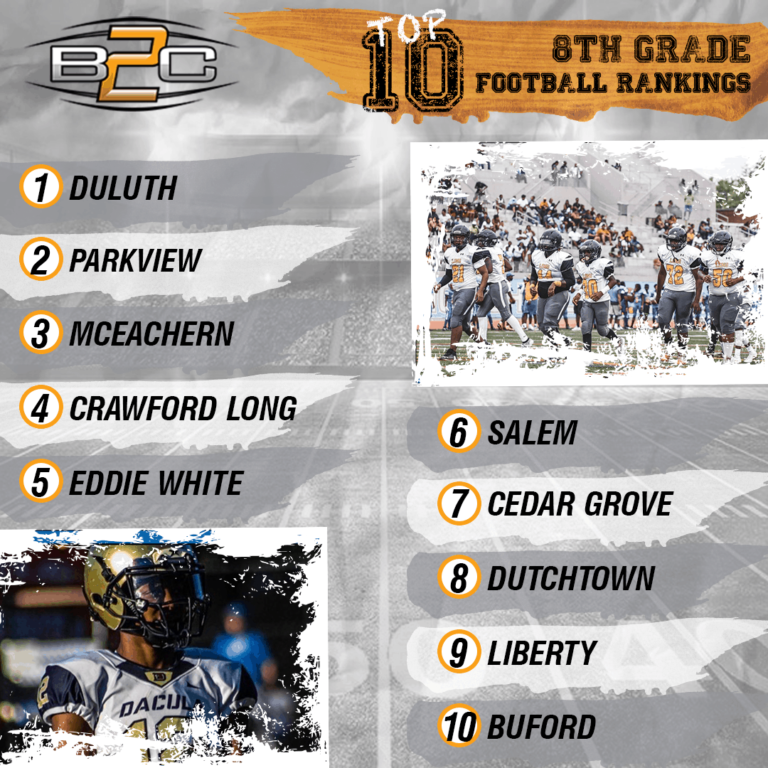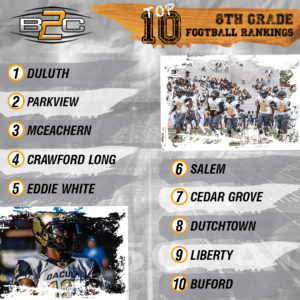 1.   Duluth Wildcats 
2.   Parkview Panthers
3.   McEachern Indians 
4.   Crawford Long
5.   Eddie White Wolves
6.   Salem Lions
7.   Cedar Grove
8.   Dutchtown
9.   Liberty Middle
10. Buford Wolves
11. Rome Wolves 
12. Calhoun Yellow Jackets
13. Callaway – Team of the Week
14. Blessed Trinity 
15. Carrollton 
16. Stephenson Jaguars
17. McDonough
18. Bunche 
19. Vickery Creek
20. Whitewater
21. Carver Rd Eagles 
Honorable Mention: North Cobb, Kennedy, Cambridge, Sutton Middle, Willie Williams (Colquitt Co), Dacula Falcons, Valdosta, Eagles Landing, MacIntyre Park, Aaron Cohn
A lot has changed since the last rankings came out but a lot hasn't as well.  Duluth and Parkview are still #1 and #2 and look like they are headed on a collision course on October 16th under the lights.  Duluth defense might be one of the best defenses ever in 8th grade, Tyler Atkinson (DE), Deuce Geralds (DE) and Anthony Moon (LB) are special.  Parkview will lean on B2C Prime 11 pick Zelus Hicks (ATH), Champ Benson (QB) and Chance Delk (WR).  The winner will more than likely be in the drivers seat to get the invite to the B2C State Championship.  Buford is probably the best 2 loss team in the country as they lost competitive games to the #1 and #2 team in the state, if you watch them you can tell that they have gotten better every week. McEachern looks like the top team in the GMSAA right now.  Offensively they are scary, they can score from anywhere on the field.  Carrolton, Cambridge, North Cobb all look good and everyone knows that Coach Charles will have Rome in the thick of things by the end of the season.  No one is paying attention but Blessed Trinity is quietly putting a great season together, they are still undefeated and have a great chance to run the table and make an argument for a B2C bid. Eddie White is once again the best team in Clayton County and this year might be their best chance to make it into the B2C Championship Series as everyone is all in. Coach Belton is an early candidate for Coach of the Year. Vickery Creek and Liberty are the top teams in Forsyth County.  They had a great game in which Vickery Creek was able to pull out the win 16-13.  They will meet again in the championship.  It's hard to beat a good team twice in a season.  Callaway is the surprise team of the year. They have big wins over Kennedy and Carver Rd.  Callaway along with Calhoun, Dutchtown and Whitewater have an outside chance to make it the Championship Series if things go their way.  Salem and Cedar Grove also seem like they are on a collision course as well. Salem is running through all their opponents. Jaleel Baugh is unstoppable and CJ Harris is a monster at LB.  Cedar Grove is playing as a team.  They find different ways to win but the one thing that is constant is their ability to play defense.  The last time a B2C Championship was played (Pre-Covid) for the 8th Grade, Crawford Long was the last team standing with a win over Walton. Two years later Crawford Long is still dominating, Desean Hendrix from Crawford has been very effective in the passing game as a big target.  They will be tested this weekend against Bunche and possibly Sutton in the championship if they make it.  Liberty is playing at a high level, they are a young 8th grade team, if they make the championship series they would a chance to go back to back.  
B2C Championship Series is November 26-28. Teams are selected to participate for the State Championship.  B2C is a free invite only tournament. 
B2C All American Game will be January 17th.  Nominations for game will be submitted starting October 4th.  
Big Game Ready
#4 Crawford Long vs #18 Bunche 
#8 Dutchtown vs #17 McDonough
#11 Rome vs #15 Carrollton