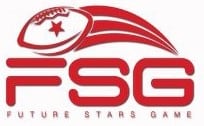 FAYETTE COUNTY, GA — The Future Stars Game brings out the best middle school football players in the Southeast.  Here are a few of the top performers from the Fayette County, Georgia tryouts.
Unterrius Bailey
6th Grade DE – Bailey is a kid with future star written all over him. Standing 5-9 and 191lbs, he is an extremely good athlete. He is fast enough to run stride for stride with running backs, yet he outweighs them by 40lbs.  This kid has unlimited potential.
Carlos Dixon
6th Grade QB – Dixon is a huge QB standing 5-9 and 150lbs that reminds you of a Dante Culpepper.  A pocket passer with a strong arm that can make the throw to each area of the field.
Justin Eboigbe
7th Grade OL – Justin stands 5-11 and 245lbs. He is the one of the most physically imposing and dominant linemen in the south.  He is a kid that you line up at tackle and run behind play after play.
Justin Foster
7th Grade DB – Foster is as good of an athlete as any on the field.  He would be considered a 5 tool guy if he was a baseball player, as he could line up at about any skill position on the field and be equally effective on both offense and defense.
Zachery Goodson
8th Grade OL – Zachery is a lunch pail, hard working, grinder that goes non-stop at the LOS.  Big and physical enough to impose his will, with the determination to dominate his opponent.  He has a mean streak that has him driving defenders thru the ground.
KJ Phillips
8th Grade LB – Phillips is a playmaker on defense that plays with more intensity and game speed than anybody on the field.  He is a technician on the field that attacks the ball and is always in good position.
Richard Russell
7th Grade DL – Russell is dominant.  He could line up on the OL and be the best on the field or line up on the DL and control the game from the defensive line.  Big kid standing 5-10 and 252lbs he is a force in the trenches on either side of the ball.
Austin Smith
8th Grade TE/DE – Smith is a 6-2 dominant athlete that is big and physical. Very good speed that makes him a force lining up at tight end, but big and very physical which makes him a prototypical defensive end.
Jujuan White
7th Grade LB – White may be one of the best linebackers in the country.  Very big, already 5-8 and 200lbs, runs very well, extremely physical, smart with a will to dominate a game.  Rarely will you find a linebacker with his stature, physical nature and football IQ